5 keys of Minimum Viable Product that leads to Digital Business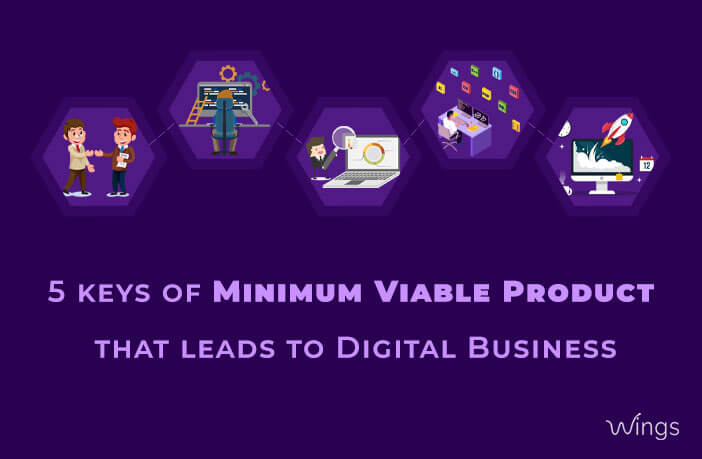 What is a Minimum Viable Product?
Minimum Viable Product or MVP is a development technique in which a new product or website is introduced in the market with sufficient features just to satisfy the consumers. The final product is released in the market only after getting sufficient feedback from the product's initial consumer.
Three Key Characteristics of a Minimum Viable Product:
It has enough value that consumers are willing to use or purchase the product.
It will provide a feedback mechanism wherein consumers would be able to send their feedback about the product.
It has enough feedback loops to guide future benefits or development.
This approach is highly advantageous for developing and delivering a product. In this blog, we'll look at MVP benefits which will help you for building a new product.
1. A Clear Product Focus
Starting with an MVP you have to define your value proposition clearly, concretely, and narrowly. It examines the breadth and depth of your product and exactly what you want to provide to your consumers. Fringe features might make your product seem sophisticated but actually won't add any value to your product in the early stage. By keeping your focus on solving one problem, it will help your product be successful. Challenge yourself to get clear. Clarity drives a strong product and a strong message to your consumer.
2. Less Need To Redo Your Work
Basically, MVP reduces the likelihood and amount of reworking on your product. This is because you have developed a product in its early stages with sufficient features. But with extra features on top of your core product may lead to the value proposition and complicate the initial stage of the consumer experience.
By doing a lot of good research and design reduces the risk of unwanted features. It tends to reduce the amount you spend before you can test whether your product is successful or not in the market.
3. Learn What Your Consumer Really Want
Once you put an MVP product on your consumer's hand, afterward they will provide you the feedback. Based on their feedback, you can prioritize your desired changes or additions. This will improve or create a smarter, market product roadmap. Consumers also love to talk about trending features they have gone through and liked it, so targeting them can help you market and create a community around your product. This way you can create relationships with your consumers.
4.Less Room For Error
When taking on any project, you know that the more tasks, people, and moving parts involved, typically, the more complicated and harder to manage it becomes. It allows you to find weaknesses fast in your product.
By testing all business functions as a whole, your team can shift to improve the weakest function of your product. You can ensure that all aspects of the business are performing well before scaling.
5. Cutting The Development Costs
This one is obvious and easy to comprehend. As the product development cycles are iterative it focuses on the reduction in the cost of development of a product. Reduction in cost helps to prevent it from becoming overly complicated and requiring more sophisticated coding and solutions. By keeping the product and project simple, you can keep costs low.
Conclusion
The MVP method is a great way to remain focused on what your product's purpose is, who it is for, and why it is needed. This ultimately leads to a more effective approach to product development. The method also reduces the time and money spent on development until you can learn what users really want, letting your learnings guide you to adapt to their needs. Overall, developing an MVP benefits your product and business both in the short and long term. Do you want to develop an MVP for your next project? You can drop a message over here and we will be with you within 24 hours.