5 Preeminent Technologies Trends For 2021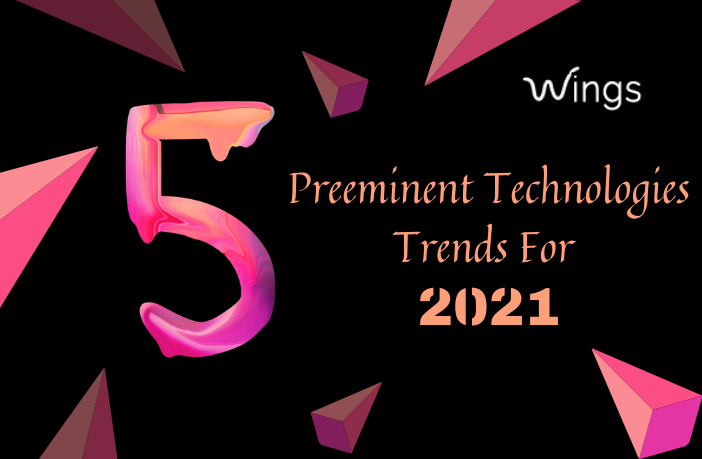 Albeit uneventful, the year 2020 is now coming to an end. Considering the unprecedented challenges that the COVID-19 pandemic threw in the way of companies, and despite that businesses continued to function, the learnings derived from the year 2020 are undoubtedly valuable. In 2020, the digital ecosystem will prove to be a gamechanger. The pandemic changed our lives, work culture, and gave birth to new trends and innovations.
Technology is evolving very fast. Are you? It is said that humans revolve around technology. Technology has entered each part of our lives. It's unavoidable that gadgets start to shape our goals – whether to connect with others or share our ideas with people around the globe. It not only changed the seemingly peripheral things but the very perception towards technology and its role in our life.  It's a basic necessity.
In the same vein, we have to keep you updated with the latest trends in technologies. Let us now take a look at how will your work and personal life be changed by technology in the next 12 months.
1. Artificial Intelligence
Artificial intelligence is already well known but is yet to become omnipresent in every single part of our everyday lives.  AI has already received a lot of buzz in the past decade, but it continues to be one of the new technology trends because its notable effects on how we live, work, and play are only in the early stages. AI is already known for its superiority in image and speech recognition, navigation apps, smartphone personal assistants, ride-sharing apps and so much more.
In 2021, we expect AI technologies to grow exponentially and feature within nearly all tech products and services. According to AI investor and philanthropist Tej Kohli, AI has at least four times as many applications as the Internet, and so the AI economy could eventually be worth $150 trillion.
2. Augmented Reality and Virtual Reality
Today, any AR or VR framework establishes a vivid 3D environment, yet it has little to do with the real one the consumer is situated in. Most AR devices can perform basic outputs of the climate, and VR frameworks can identify the developments of the customer through head tracking, controllers, and so on, however, their capacities stop there. In 2021, we can expect these forms of technologies to be further integrated into our lives.
3. 5G Technology
The last few years have had enough hype around 5G and its impact, but in 2021, it may go real. 5G could strengthen the technologies backed by AR and VR by giving them the needed bandwidth to be widely available. The concept of cloud-based gaming as well will rely heavily on the strength that 5G is going to provide, making the age-old cable-based gaming redundant. 5G technology is now in trend and also gonna rule the coming age of the telecommunications industry. It is offering quicker speeds and a more dependable connection on mobile phones and different appliances.
Given the remote work, digital collaboration, and videoconferencing becoming part of our lives, the need for a reliable and fast connection has become super important. Gartner predicts that by 2023, there will be more than 1 billion active users of 5G, which means more than 217% compound annual growth rate.
4. Blockchain
Blockchain is only a digital record that takes care of secure transactions. It is secure from hackers as it is decentralized in nature. Blockchain discovers its application essentially in digital currencies. It isn't restricted to this single space. As per the predictions go for 2021, blockchains will extend to Omni-experience ecosystems cutting down on transaction costs by 35 percent. Global supply chains through blockchain services will get more collaborative allowing customers a better experience. 
A few major players, for example, FedEx, IBM are now executing blockchain in their frameworks.
5. Internet of Things (IoT)
Another promising new technology trend is IoT. IoT will emphasize health technology, safety along customer experience. Many "things" are now being built with WiFi connectivity, meaning they can be connected to the Internet—and each other. Hence, the Internet of Things, or IoT. The Internet of Things is the future and has already enabled devices, home appliances, cars, and much more to be connected to and exchange data over the Internet.
IoT is the future and we are exactly toward the early phases of it. By 2021 over 35 billion IoT gadgets will be introduced around the world. Likewise, the IoT home market is relied upon to reach $ 53.45 billion by 2022. 
Conclusion
2020 has been a remarkable year. The new technologies will set the new normal for the world. The post-pandemic era will see a great deal of newer trends. 2021 will build on these innovations and then some, as industries look forward to greater automation and widespread use of solutions based on IoT, AI, AR/VR, and others. The new technologies will set the new normal for the world. The post-pandemic era will see a great deal of newer trends. Contemplating a transformation and wondering how digital adoption can be helpful for your business? Drop a line of a message and we will be back within 24hrs.