Big Data is the Next Big Deal!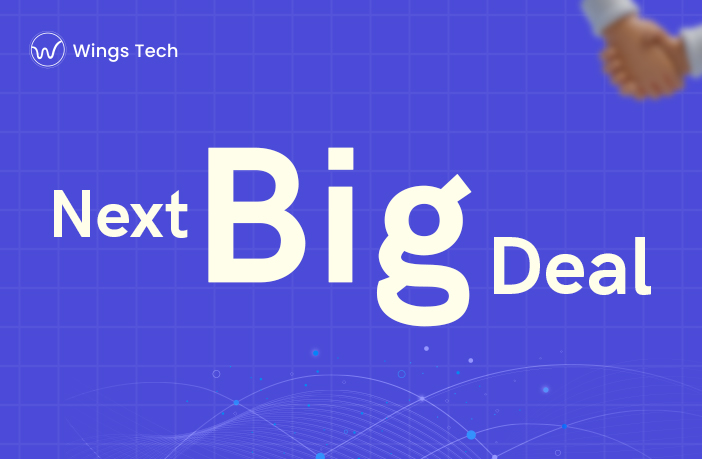 There was a time when information was somewhat restricted and centralized before the internet. The only way to obtain information was by reading books, newspapers, talking to people, etc. Now that the internet has arrived, along with improvements in computer technology, information and data are soaring, and it has become an open system that allows people to access information without limitations. 
Over time, social mobile applications and websites have become platforms for sharing data as the internet becomes more accessible around the world. As data grows in size, its value also increases, with this value being used in a variety of ways, but mostly for analytics and decision-making. 
Besides this, big data is growing at such a fast pace that the big data analytics space is set to reach a whopping $103 billion by 2023!
Data is the new oil, but better.
In the same way that steam, electricity, and electronics propelled the three revolutions preceding it, data – and in particular the sheer volume created by the Internet of Things – is driving the Fourth Industrial Revolution.
During the early 2000s, the world produced approximately 1.2 zettabytes of data. In 2025, IDC forecasts that worldwide data will grow by 61% to 175 zettabytes, with 90 zettabytes created by the Internet of Things.
It's no secret that data is the new oil, except that, unlike oil, it can be extracted easily (with the correct technologies, of course), and its supply is infinite. In addition, data can be used a myriad of times to generate new insights and unlock new potential.
What is big data?
"Big data" is the term used to describe large amounts of unstructured and structured data that businesses are inundated with daily. But what matters most is not just the type or amount of data, but what organizations do with it. Analysis of big data can lead to insights that improve decisions and give confidence in making strategic business decisions.
A big deal is made out of big data. As big data analytics becomes more mainstream, businesses will benefit from reducing their costs, making better decisions, and creating products that are demanded by customers.
To paint a clearer picture of: Why is big data important? 
Because
1. Minimize Expenses:
By reducing costs in areas such as storing large volumes of data, big data technologies such as Hadoop and cloud-based analytics benefit an organization. Organizations are also able to identify more efficient ways to do business with the help of these tools.
2. Making faster, better decisions
Businesses can analyze information immediately and make fast, informed decisions using in-memory analytics and data from IoT, combined with the speed of in-memory analytics.
3. Social Media Monitoring
Social listening gives you the power to determine who is saying what about your business. Brand sentiment analysis will present you with the type of detailed feedback you can't get from regular polls or surveys.
4. Customer Acquisition and Retention
Digital footprints reveal a lot about customers' preferences, needs, and purchasing habits. By observing consumer patterns, businesses can tailor their products and services according to specific consumer needs. Ultimately, it boosts sales and ensures customer satisfaction and loyalty.   
 What's next?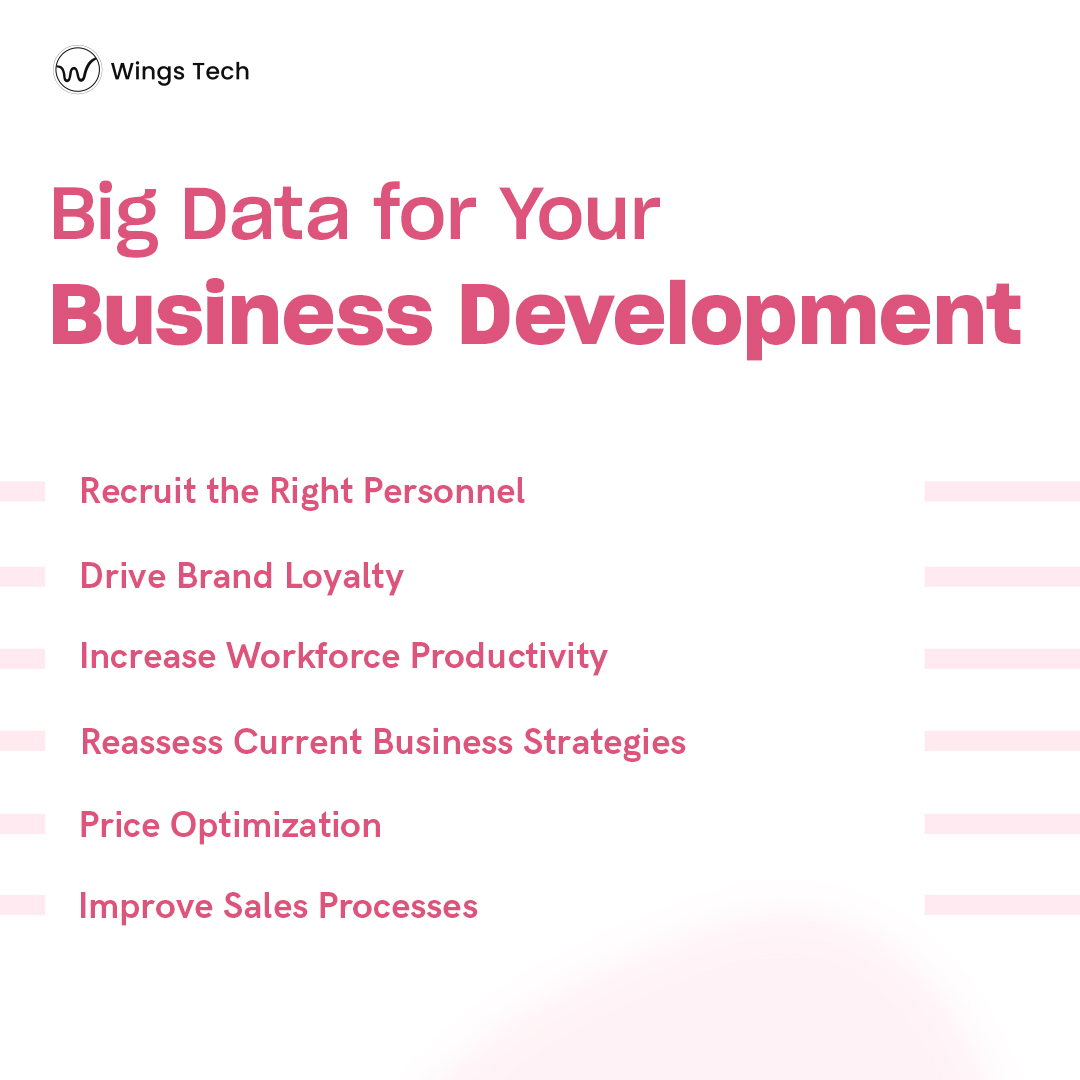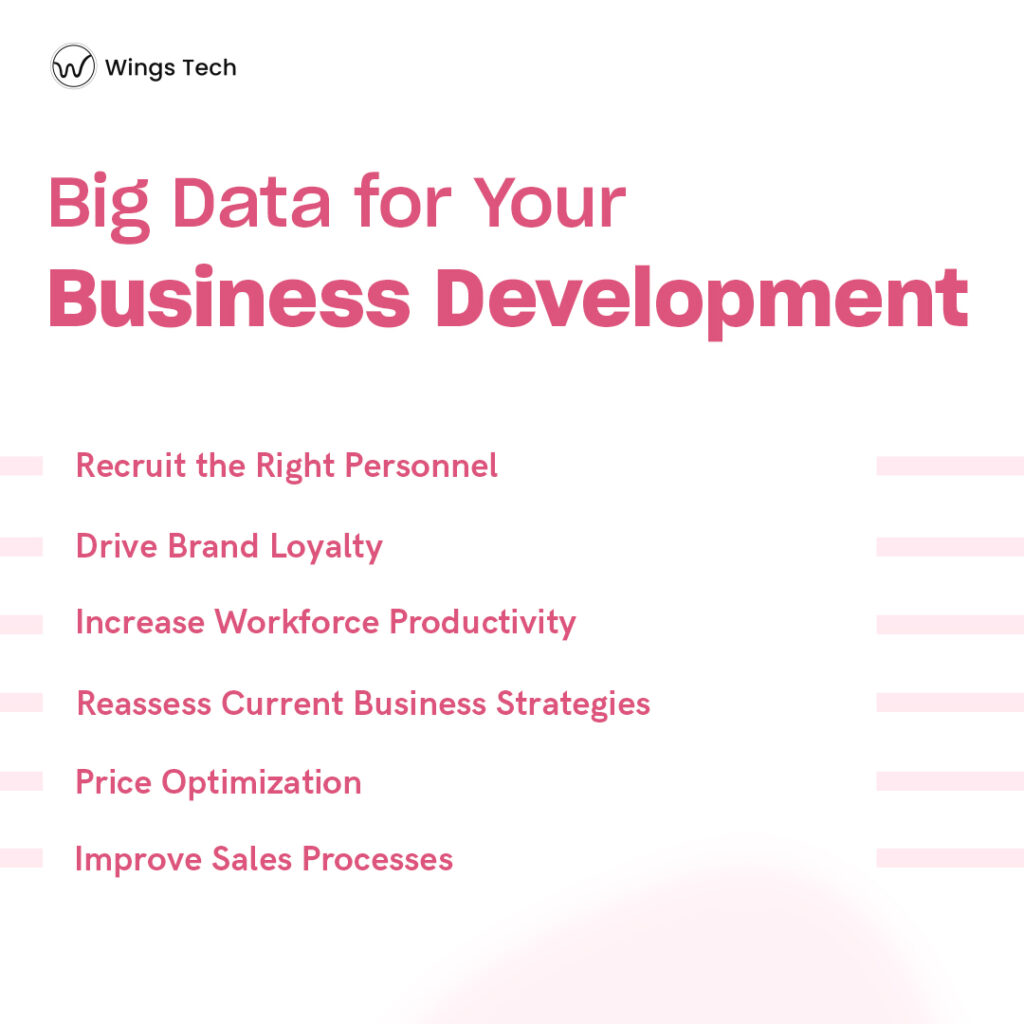 Currently, big data plays several crucial roles in business development.
1. Recruit the Best People
A CEO can't run a company on their own. You must have a team of qualified individuals who can consistently add value to your business. To take your business to the next level, they must be able to collaborate seamlessly.
Thus, finding the right employees is not an easy task. In the wake of big data, candidates' social media profiles and corporate profiles can be used to gather information about them. By doing so, HR can quickly identify and hire the best candidates.
2. Increase Brand Loyalty
Consumer expectations must be met by businesses to succeed. The more you can please your customers, the more likely they are to return for repeat service. Building stronger relationships and generating ROI are the best ways to do this.
Analyzing and mining big data can provide marketers with greater insight into customer behavior. Netflix, for instance, saved $1 billion on customer retention by utilizing big data. Also, you can use big data to improve your business offerings and performance. The more you please your customers, the more competitive you will become.
3. Increasing Workforce Productivity
There are many ways in which big data can be used to help in development, from boosting employee morale to boosting planning efficiency. By combining deep learning and predictive analytics, an employee can conduct better risk assessments and optimize processes.
Your workforce becomes more efficient and productive when they act upon comprehensive data. The fact that employees can make confident, proactive decisions based on quantifiable data also contributes to the confidence and proactivity of employees.
On the other hand, employees may make mistakes without big data. A consistent pattern of making mistakes can have a detrimental effect on productivity and revenue. Moreover, it can damage your online reputation by creating mistrust between you and your customers.
4. Re-evaluate Current Business Strategies
Digital landscapes continue to evolve. Identifying patterns within large data sets allows you to predict trends and changes in demand. To remain agile, you must develop strategies that adapt to these fluctuations.
Consequently, your business strategies must also be continuously analyzed. Maintaining optimal efficiency and staying competitive requires monitoring your strategies' effectiveness. Furthermore, it can improve profitability by identifying low-risk opportunities.
By using big data organizational insights, businesses gain a better understanding of the factors that affect their success. Analytical techniques can help managers validate decisions and assess variables for flexibility, scalability, and viability.
5. Price Optimization
Businesses should price their products so that they don't compromise on profits or lose competitiveness. The most effective price, however, can be difficult to determine.
Big data offers your business valuable insight, enabling you to build models that will help predict what customers will pay if circumstances change. Boosting profits by nearly 8% can be achieved with just a 1% price increase, according to a McKinsey report. This illustrates how vital it is to have the right pricing strategy.
6. Improve Sales Processes.
With the aid of customer analytics, entrepreneurs can target the right audience at the right time. It can help marketers provide more prompt customer service. Big data can help companies increase their operating margins by 60 percent, according to McKinsey.
Additionally, big data can provide accurate information about the market's size, current trends, and future growth prospects. Marketers can, for instance, develop demographically-based sales strategies using segmentation.
Sales representatives are also given the ability to suggest items based on the tendencies and order histories of customers when sales and marketing are based on big data insights. Additionally, companies will be able to enhance existing products and services as a result of the combined results in addition to increasing revenue streams.
Over to you!
There has been an exponential growth in data and it will continue to grow. We must harness Big Data effectively to reap its benefits!
Looking to incorporate big data technology into your business? Are you ready to tap into the power of big data and boost the potential of your business? We will sit with you to identify the areas where big data can be most beneficial and work on its incorporation.