It's a Right Time to Empire your Ecommerce Notion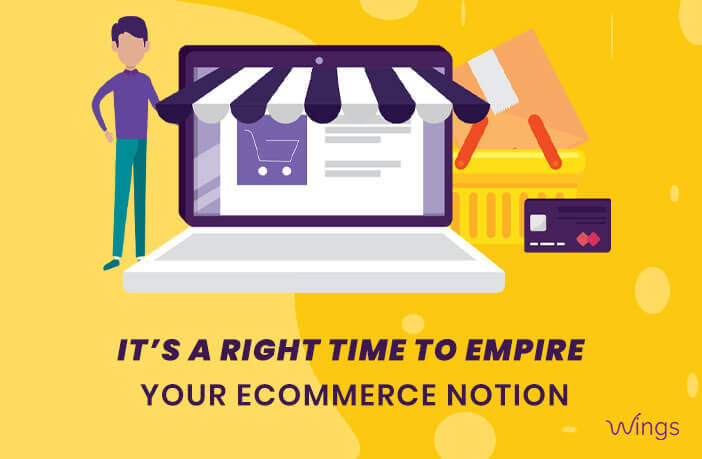 E-commerce implies being eaten up in the retail world at present. Almost every year e-commerce is growing and it has become extensive in the global economy. Today the online market is expected to grow by 56% by 2020. COVID-19 has totally changed the dynamics of online retailers worldwide, as digital stores use the latest technologies to acquire market share from people who can continue shopping from home until the crisis is over.
Around 40% of worldwide internet users have bought products online from e-commerce businesses. The number of consumers browsing eCommerce businesses buying online is expected to hit 270 million. And, people are even shopping from the smaller screen, because of better mobile networks and bigger mobile sizes. E-commerce is swaying the minds of the young generation. As the e-commerce website is booming already upon us.
There are a lot of folks who want to start an eCommerce business. But starting an eCommerce business is hard work and demands many steps and decisions that need to come together on time. So if you are looking for the same then your goal is to make a quick buck – that's all you need to do, the goal should be a scalable, profitable business that lasts. You should have a long-term vision for building an asset that brings true value to the market.
It is the best time to dip your feet into the e-commerce waters. Here are some reasons why now is time to get on board with eCommerce.
1. Availability of Capital
The biggest hurdle in starting a business in India is the availability of capital. So starting an e-commerce venture requires capital on an ongoing basis to operate at better margins and achieve increased turnover. In today's scenario when large e-commerce companies are expanding their presence to every nook and corner of the country, the need for working capital has become more pronounced for smaller businesses to survive and thrive in the market. Though the cost may vary depending on the scale and categories of the product that you want to sell and the kind of business model you adopt.
2. Research Ecommerce Business Models
Research of the e-commerce business model is a critical step. First, you need to understand the different business models available that impact your business structure. Not just a single business structure that works for everyone. Service-based business, software, digital product sales, and physical products are just the tip of the iceberg. Before you can decide on what to sell online, you need to understand the different business models available. Growing any online business is an investment.
3. Technology is on your side
Technology is a major focus in the world of e-commerce and becoming more business-friendly technology today. So keeping up with all of the latest technologies in e-commerce can be daunting. Your e-commerce developer should be answerable and will serve the technology to your company best. Technologies like contactless pickup have been major selling points for consumers during the pandemic. You can get an array of tasks done from your personal computer thanks to continually improving technology.
4. Choosing a Product
The first step to building an e-commerce business is to know what products you want to sell to consumers. Don't. Before you think about product ideas, think about personas. You can't expect people to buy your product as you are not clear to whom you're selling. Don't pick an overly crowded niche, however, and skip anything dominated by major brands. We'll highlight strategies you can use to find product opportunities and can explore the best places to look for product ideas.
Here are a few things while deciding the product category, there are some products that have boomed to up to 75% growth within 2 months, specifically in: food, exercise equipment, electronics, online learning, hobby items, and home essentials. Other categories like travel, luxury, and jewelry were hit hard, some down by 40%.
5. Potential for Expansion
As it's so easy to start an online business but the potential for expansion is nearly limitless. Once you start to experience success, more and more people will want to buy your product, as online advertisers can help you gain more exposure and reach out to new potential clients. In the pandemic, there are e-commerce brands that experienced rapid growth and quickly adapted their stores at the onset to increase in demand and serve customers in ways they never thought possible. It's really up to you how large you want your business.
Conclusion
We hope this blog roundup helps provide you with a clearer roadmap. There are a variety of reasons to get involved in the eCommerce trend, and right now is the best time to do it. It is a low-cost, low-risk endeavor with the money you always dreamed of. We know that the process can feel like you're solving a head-scratcher of a puzzle, but it's rewarding all the same. So are you planning to build an e-commerce website or application then just drop a line and we will be with you within 24hrs.