Knock knock, CMS calling your website!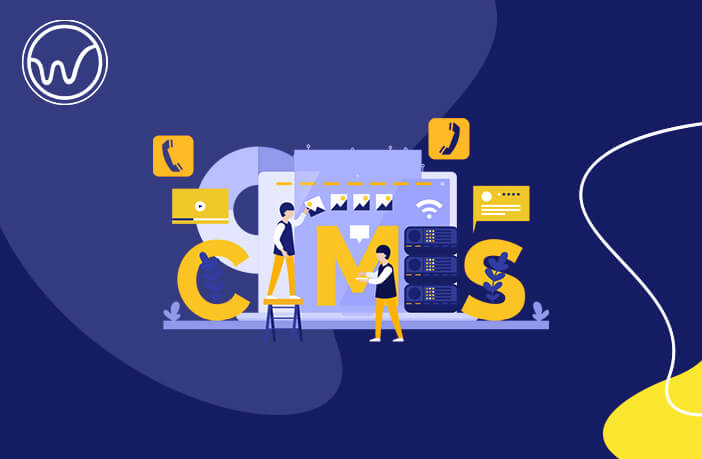 The call has been received by you, right?
Business world acronyms are challenging to keep up with. We can't ignore SEO, CRM, SERP, CDN, and CMS.
CMS plays an especially important role in the web development process since over 68 million websites are built on one. But what exactly is a CMS?
As we proceed through this article, we will discuss what a content management system is, including why it's important, and some examples of the most popular CMS.
What is a Content Management System (CMS)?
The term content management system (CMS) refers to an online application that helps you manage and create a website through a human-friendly interface rather than having to deal with code directly.

Benefits of a content management system
An important benefit of a CMS is its collaborative nature. The site allows multiple users to edit, schedule, or manage content. Because CMS interfaces are browser-based, users can access them from anywhere.
Another major advantage of CMSs is that they enable people without programming experience to create and manage their web content. Content management platforms typically feature drag-and-drop editors, which allow users to enter text and upload images with no knowledge of HTML or CSS (programming languages).
The use of a CMS reduces a company's dependency on front-end developers to change its website, making new pages more easily and quickly published.
Why Use a Content Management System?
While we have already alluded to some benefits of using a CMS, let's focus on some specific ways it can influence your set-up process, team productivity, and online visibility.
1. No coding experience is needed
It is not a problem if you lack experience in coding and design. Users can manage a website with no technical glitches thanks to Content Management Systems. Among the numerous features available is the ability to add images, videos, etc., without knowledge of coding.
2. Makes it easy to collaborate
Multiple users can edit a website with a Content Management System. We can have the front-end team, marketing team, and backend team all working simultaneously on the website. So, one team can begin working on a website without waiting for the other to finish its work.
3. Optimized for SEO 
Search engine optimization features are built into the Content Management System. By using it, users can easily optimize their sites for search engines and get higher rankings without having to do much. Make your meta titles, URLs, and other SEO-friendly elements stand out from the crowd.
4. Ready-to-use templates
By providing you with pre-designed templates, Content Management Systems allow you to maintain a professional and unique look for your site. Thanks to the abundance of options, you can easily find the template that suits your industry vertical, whether fashion, healthcare, eCommerce, LMS, etc. Likewise, if any of these templates need to be changed, you can change them at your discretion.
5. Website that is easy to update
Changing and updating this site has never been easier with the Content Management System. Your area stays current with all the settings you set, from your text to your thumbnail image and your logo. In just a couple of minutes, you can implement the latest features on the website.
You should decide why you want a Content Management System for your website before you look for one. It comes in a wide range of categories, and each caters to unique business requirements. Fixing a few things would help you decide on which one is the most compatible.
As a last point, let's look at some of the most popular CMS platforms. Here we go.
Although there are hundreds of CMS platforms, some of the most popular platforms include:
Endnote
Using a content management system as your website platform offers a variety of benefits that are all game-changers. Content management systems store all of your web content in one place, support effortless collaboration, help create dynamic web pages. It allows for quick and easy updates to be made and offers handy plugins and tools to make your site effective and secure, while also saving you both time and money.
You can learn a lot from reading this article, but you should take away this: the content management system can reduce the amount of money you spend on your website and make it easier to manage. Stress, time, and money wasted should not be added to your workload. Why not get started now? Make the switch to a content management system.