Why Wireframing is most important during Website and Mobile App Development?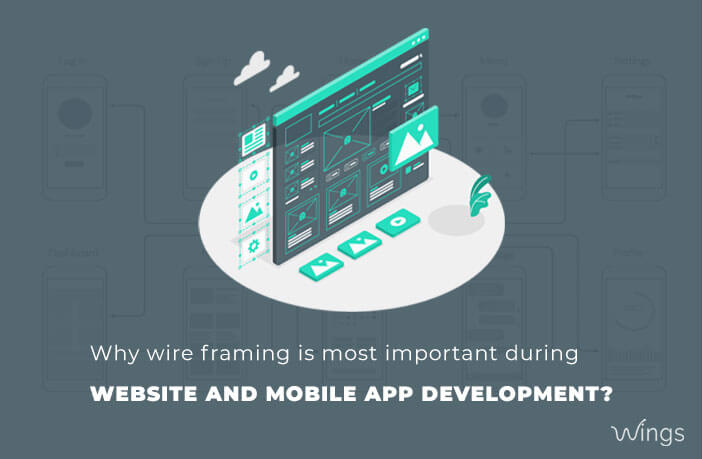 In every website and mobile application development process, communication between the company and the client is done through calls or email. Maybe the client has no clear picture in their mind or miscommunication may take a product to a different level. Mainly we divide the process of creating a website and application into three sections gathering requirements, UI design, and last development. While each and every section is important, but one section is hidden that bridges the gap between the list or graph of requirements on paper, to the gleaming UI i.e wireframing.
Let's go in-depth about what is actually wireframing and why it is important!
What is Wireframing?
Wireframing is the skeleton or the blueprint for any website and application. Wireframing is important for developers and the most crucial section in the process of any development. It creates a hierarchy for your content, which could be your next move. Everything will be navigated by visual representation of elements like buttons, icons, menus, and a lot more. Everything will be showcased on your screen in the wireframe to create a user-friendly and well-optimized interface before 'coding' has begun.
Wireframing gives a brief idea about the flow and design of the website and application. The main goal of wireframing is to establish a schematic representation of information and priority can be measured.
Why is Wireframing important for website and mobile applications?
Wireframing is the most important designing tool for the initial phases of any website and application development process. It's a complete working layout of any particular screen and also can be used as a part of the website and application enhancement procedure. Wireframing plays a key role in defining the structure of the product.
Let's talk about the 4 important key features of wireframing that is important for website and application:
1. Visual Branding and Animations:
In today's competition, the presentation of a website and application is very important, and visual branding holds a key. Visual elements such as logos, taglines, pictures, etc. are the most consistent factors of the website and application. Wireframing helps clients to accomplish their branding elements according to the suggestions of the developer. Through wireframing, the developer and client will have a clear idea about what kind of elements should be included on the screen.
So with Wireframes, developers can take to another level of displaying elements in the form of animation. They help to create interesting interactivity and enhance the navigation structure of the entire website and application.
2. Define Workflow as a Hierarchy:
Textual documents can't create connectivity between two screens because it is very lengthy and tidy. We can work on visual workflow by using wireframing in defining complex interactions. Wireframing has a strong base because it creates an outline of its website and application structure. Wireframing is a skeletal framework that defines how the information will go inflow and would be outlined on a website and Mobile Application.
3. Saves Time and Money:
Wireframing creates or graphs the overall picture of the product before it moved to the development process. All it takes is a piece of paper and a pen to draw and with online tools you can see all the enhancements and changes you compare the process anytime during the website and application development. Hence before starting to develop a product you already had done wireframing, checked, and scope defined, as it saves both time and money on developing that product.
4. Slash Scope Creep:
Scope creep is making uncontrollable changes in the product during the development process. So, once you finalize the wireframing, then there will be no chance of adding new features in between will be of no use. You have to be very clear about your product during the process of wireframing. Though, if you want to add more features that could be considered in the next phase, but not acceptable in the current phase once the development of the product is started.
Conclusion:
Wireframing is simply a visual skeleton of the future website and application. Wireframing is important as it gives a clear picture to the developer of the structure and functionality of the product. Wireframing is not only useful to the developers but it creates a spark in the conversation between the client and developer during the preliminary stages of the design phase. Eventually, it helps to bring the product to be successful in the shortest period of time with as little money spent as possible. I would love to hear that wireframing has helped your efficiency. You can Feel free to ask questions regarding anything you like about how to develop a product. Just drop us a line and will be with you within 24 hours.