Wings Tech Solutions verified by Clutch!
Wings tech solution is serving over 10 years with the dedication to create web and mobile solutions. We are operating in the fields of software, mobile, web, and creative designing and today our services have competed to the next level in today's market. We are so glad that Clutch has conceded the hard work of our team.
Basically, Clutch is a B2B platform where ratings and reviews can be posted with valuable comments by their clients of leading IT, marketing, and business services companies. Clutch is a more powerful and trusted biggest third party marketing platform. It takes a brief review from clients about the company and their work and asks them to rate the services like Quality, Schedule, Cost, and Willing to refer. Our profile has its own privilege on Clutch over high ratings and reviews. Clutch empowers engineers to discover and identify their most valuable customers on their behavior to spend on reviews, fostering true loyalty.
Our vision is making IT simple, we aim to provide consulting, communication, and interactive solutions. We ensure that until our clients aren't satisfied, we will provide numerous solutions with minimal cost to them. Once the client gets output according to their choice, they can review us on the clutch platform to show our dedication towards work. Clutch analysts assign scores to the businesses on their dashboard services that they provide and their Ability to Deliver. The Ability to Deliver takes into deliberation to the market presence, awards, and client reviews of each vendor.
We are so overwhelmed towards our clients for giving us a 5-star rating on such a platform that is totally based on the clients' review. Here are a few things what our clients think about us: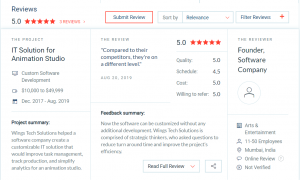 Today we have 50+ auxiliary engineers with highly skilled in diversified areas of Information Technology. We are proud to say that over 400 satisfied clients and above 700 extremely successful projects in our bucket. Apart from projects, we are involved in products as well. We have created certain products such as VANI and cTrunk whereas VANI is a product tracking solution and cTrunk is a courier management platform. We are playing with the leading technologies to compete nationwide. For any help, our team stands with you to accomplish your project. You just need to drop a single message, will be at your service.