50+ Smashing Retro Fonts From the 50s to the 90s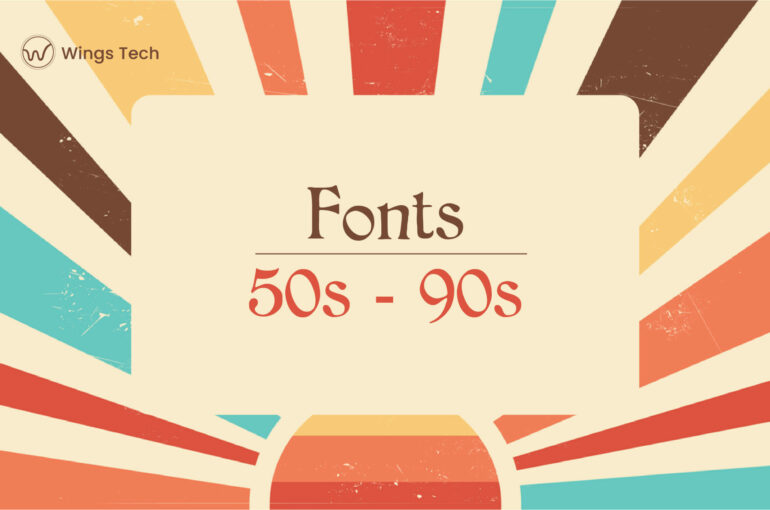 Simple design and aesthetic beauty in any project are primarily determined by the fonts used. Even if you are really good at something, if you don't have the right type of font, you will feel like you're falling short.
The right font can transform a dull statement into an attention-grabbing piece of artwork. Nostalgic and funky style typefaces add a playful touch to any project. That's why we chose typefaces that are inspired by the aesthetics of different periods, whether they're a bright and peppy 90s font or an elegant font reminiscent of 50s lettering. Retro is a broad category that includes many different notions of design. 
It can be challenging to choose between elegant retro fonts of the 50s and the bright comic book styles popular in the 90s. Nevertheless, we don't want to overwhelm you, so we decided to make this a carefully curated list and only mention high-quality fonts that truly capture the essence of a bygone era.
Retro fonts from five decades
Roaring 50s Retro Fonts

Lovely 60s Retro Fonts

Groovy 70s Retro Fonts

Charming 80s Retro Fonts

Nostalgic 90s Retro Font
Roaring 50s Retro Fonts
Around the world, people in 1950 lived in hopes of a better tomorrow and searched for happiness wherever they lived. Rock 'n' roll, the space race, and new technologies also characterized these times. Their influence was also seen in design trends during that period. Retro script fonts from the 50s combine beauty with functionality. Modern designers now use streamlined serif typefaces to add a vintage, nostalgic feel to their work. 
1. Labor Union
The Labor Union font was inspired by signs used during labor strikes in the mid-20th century. If you're looking for a retro touch for protest signs, letterhead, and business cards, this is the right choice for you.

2. Soda Fountain 
Soda Fountain takes its inspiration from diners and soda parlors with streamlined lettering and retro styling. Adding this font to your project will give it all the vintage '50s vibe you're looking for. With 8 fun flavors, you're sure to find the right look for your project, including an italic version, a hollow version, thin and heavy version.

3. Dog Days
A stylish calligraphy brush script reminiscent of the past is perfectly captured in Dog Days. It borrows its style from a retro swimsuit advertisement. In spite of its old-fashioned roots, it offers plenty of striking OpenType features.

4. Pink Broccoli
Yes, it has an odd name, but Pink Broccoli is the life of the party! It's time to boogie down in your poodle skirt! The stylish soft-edged short caps font will grab everyone's attention. It'll look great in any retro-style design.

5. Bandakala Casual Script
Retro font by Tanziladd influenced by 50s apparel also boasts ligatures and swashes that give it a modern feel. Designed to work within Adobe Indesign, Adobe Illustrator, and Adobe Photoshop.

6. Pitcher
Pitcher was designed with a bold font full of personality to capture a bit of American culture in the 1940s and 1950s. In addition to the clean version, there is also a grungier, textured version.

7. Fresh Press
Fresh Press's bolder look is sure to amaze, unlike many 50s cursive fonts that are elegant and slender. Additionally, the font comes in a rougher, more textured version if you'd like an old-school vibe.

8. Cottage Sans Font
Cottage Sans is a beautiful, rustic font in a regular and rounded style. The strong sans serifs will look good in any design to nail the old nostalgic feel.

9. Carosello
Carosello is one of my favorites from this roundup! It was hand-drawn with a sharpie so it would have the imperfections of vintage advertisements. You can reproduce vintage ads, posters, flyers, and quotes with it. Besides menus, you can create websites, social media graphics, and more. 

10. Stencil 1952
Stencil 1952 is a clean and no-nonsense stencil font discovered in an old typography book, so you know it's the real deal. Many fonts attempt to emulate the typography of this era, but this one was lifted right out of the past.

Lovely 60s Retro Fonts
Are you more likely to associate the 1960s with tie-dyes, peace signs, or music legends like the Beatles? It was a time when everything was iconic, including the fashion trends.is no way you won't recognize the retro fonts from the 60s – whether you were a fan of this decade or not. Though they are different, these retro fonts elicit a nostalgic feeling the moment you see them: bubbly, elegant, and bold.
11. Ramdone
The Ramdone font shows a transition from 50s brush scripts into something similar but with a little extra zest. A 3D look can also be achieved with this typeface by using the extruded effect.

12. Groovy
This bold 3D script was popular in the 60s and 70s, and Groovy nails it perfectly. The font comes with an extruded effect, so it's easy to make it look exactly as shown in the preview.

13. Far Out!
While Far Out's inspiration is looser, its style is still rooted in the 60s. Since it's free for all types of use, it's worthwhile trying if you're looking for something a little different but that still clearly belongs in this age.
14. Bignorg
Bignord is a beautiful font with a lot of character that was heavily influenced by vintage packaging. You can create a custom look using the set's alternate styles and swashes. It also includes ornaments, borders, and lines for decorating your designs. Large text is best suited for posters, headlines, apparel, and more.

15. Gadimon
The Gadimon font features layers of the hand-lettered script, making it easy to create shadows or 3D effects at no additional cost. For branding, product packaging, labels, apparel, advertisements, and more, this font is perfect. It includes many glyphs for styling your text, along with a web font.

16. Fairy Tales
Although this design is timeless, it still has the air of whimsical advertisements from the mid-20th century, which is reminiscent of old fairy tales. There are also some animal designs in this pack that pair well with the mystical font.

17. Tropika Island
Tropika Island was a popular advertisement and sign style at the time, and it's similar to the lively tropical style of the midcentury. A bold main font is included with it, along with a softer but still stylized script.

18. The Rickey Vintage
Trying to find cool retro fonts? Rickey is a perfect choice since it has a bold and retro look. You can find cool posters, advertisements, and labels in the 60s era if you use Mickey retro script font. Whether you're making a logo, a badge, stickers, or even Hollywood movie posters, this font is perfect.

19. Swung Note
Aside from its interlocking letters, Swung Note is an impressive font that provides a wide variety of options. With its interlocking pairs and alternates, this font offers a lot of room for experimentation. Get a custom look effortlessly!

20. The Beardy
The Beardy is a big and bright serif font that serves as a callback to the pop culture of the 60s and 70s. The bold font is most suitable for headings, logos, and large posters and will instantly transport your project back in time.

Groovy 70s Retro Fonts
If you are looking for a typeface that is hip, funky, and vintage at the same time, then this section of 1970s retro fonts is for you. They are ideal if you are looking for inspiration or simply want to add some spice to your artwork. To recreate a 70s design, you'll likely need more than one font, as the typography of that time was so varied. You should pick a typeface family or a set of fonts at least. 
21. Lovadelic
Lovadelic, like many other "groovy" script fonts, takes a more psychedelic approach with showy ligatures and glyphs. Combined with the typeface, a handful of sketchy graphics are included.

22. Rosebay
Rosebay is a lovely slab serif font that has a retro feel but does not feel overwhelming. Your '70s designs will look great with this, as well as modern ones. A matching oblique version is included with the upper and lowercase letters.

23. Creative Vintage
The Creative Vintage font is another beautiful example of '70s typography that you're sure to use frequently. As part of this package, you will receive three fonts: regular, draft (slightly textured), and Fabulous Script, which goes perfectly with Creative Vintage. 

24. Restora
Roman serif font Restora is enhanced with ligatures and swashes. There is a certain amount of vintage feel to it, but it still fits in well with more professional but still vintage works from this era.

25. Oldways
Oldways font blends old Western-style serifs with a modern flair to give it a feel similar to old Western-style fonts. There's nothing to worry about with this freeware; it's great for projects looking to capture a Western audience.

26. Cadet
Cadet's roots lie in Bauhaus, an early 20th-century design that grew in popularity in the mid-late 1930s. But in the 1970s, it saw a revival. A lot of the typefaces are based on those from the 1970s, making it an authentic vintage font.

27. Heirloom
The bubbly, friendly Heirloom font is just right for old-fashioned aesthetics, especially those with natural or earthy roots. The Heirloom font is much more readable than many fonts from the 70s that are heavily stylized.

28. Summer of 76
Summer of 76 looks like neon signs from the 70s with its multi-line font. It also has a very relaxed feel, even with its unique appearance. A more readable and practical version is also available.

29. Tangerine
Designed to evoke nostalgia for the 70s design, Tangerine evokes a sense of nostalgia. While remaining true to the era, the designers transformed old typography into their own style.

30. Glamour Absolute
Glamour Absolute is another beautiful, versatile vintage font. There are 12 different variations, so there are plenty of options and choices to choose from. Whether you're designing magazine covers, album covers, invitations, or advertising, this elegant font family is perfect.

31. Popstone
Popstone comes in 10 different weights, so you have lots of choices. As well as stylistic alternates, ligatures, glyphs, numbers, and multilingual support, it also comes in a web font format.

Charming 80s Retro Fonts
1980 was a decade with a rich cultural history. All these things impacted the field of design, from neon colors to sci-fi to the original Nintendo. At that time, the typography was really distinctive and varied from handwritten fonts to bright strong typefaces. These retro fonts are perfect to use in your artwork since they will attract your clients' attention without abusing their time: they provide a great old-school vibe and add a little flair to your work! 
32. Saturday Night
There was a lot of experimentation in the 80s and 90s, and wild designs like this were commonplace. This typeface pays homage to the disco scene, and the Interlock variant features 777 ligatures.

33. Retrohols
As we move forward, we will see a lot of funky, stretched, and vertically asymmetrical styling from the 70s. Retrohols is a trendy font that is slightly more refined than Comic Sans but just as lively as Comic Sans.

34. Thunderstorm
Thunderstorm evokes pop culture designs of the 1980s and 1990s with bold, slanted brush strokes. The perfect display font if you want something energetic.

35. West Side Font
The West Side font is a cute and free font. The blocky style is reminiscent of cartoons and posters from the 80s, with a bold and stylish design that will help you to stand out from the crowd.

36. Lazer 84
Lazer 84 is a brush script with a rugged aesthetic that would be a great fit for the high-tech/synthwave-style graphics of the 1980s. Feel free to use this for personal use, as it is free for personal use.

37. Paralines
The Paralines font's creator describes it as retrofuturistic, with influences of both the retro 80s style and modern graphics. Feel free to use it, so long as you credit the designer.

38. Last Dance
The font Last Dance looks like it might have been used for 80s record or cassette album covers, or movie posters. There's a vintage touch to this script or handwritten font. Create authentic-looking media and music designs with this.

39. No Signal
VHS tapes are a symbol of the 80s. At the time, glitches were a bad thing, but they are now a stylish way to reminisce about the era. Incorporating glitch effects into 80s designs is a breeze with No Signal. This font is ideal for large text and analog background designs like retro posters.

40. Endless Bummer
Endless Bummer by Aaron May is a radical hand-drawn font based on 80's skateboard graphics, brands, and culture. This font can also be downloaded for free.

41. Letter Magic
There are various artistic ornaments and swashes in the Letter Magic font. A theme that is old-fashioned and light-hearted would work wonderfully for any project.

42. Neoncity
Neoncity draws its inspiration from the flashing lights of 1980s. The package comes with two font styles: regular and script, as shown in the preview image below. This is perfect if you want to recreate the look of 80s movies.

43. Revive 80
Revive 80 fonts to capture the bold and blocky look of 80s typography. The bundle includes Phatt, Wide, Tall, and Signature versions of the typeface with outline versions of each.

Nostalgic 90s Retro Fonts
The section of 1990s retro fonts features grunge and hipster fonts, handwritten lettering, as well as pixelated fonts. You can use 90s retro fonts in your artwork if you miss the video game and comic book age that influenced every aspect of our lives (graphic design, too!). Regardless of whether you need digital art or something you intend to print, you'll surely find something that will suit your project. 
44. Hot Rush
Designed with a nod to the fast-paced car culture from the 80s and 90s, Hot Rush is a great font with a few variations: the standard variant with italics, striped with italics, and script. The font also supports swashes, alternates, and languages!

45. Eskool
Eskool should be familiar to anyone who went to school in the 90s or played educational games during that time. For a nostalgic taste of the 1990s, use this free clip for any personal project.

46. Wasted Youth
Wasted Youth's grunge style was inspired by skater culture, horror movie posters, and punk bands of the 1990s. There are three types of styles: a clean version and two hand-drawn versions using markers and brush pens.

47. 90 Ninety
There is a cool and free Armenian font called 90 Ninety that is subtly old-fashioned and yet still very cool. Just the numbers alone would make a great techno design.

48. Baou
Initially, this appears to be an ordinary sans-serif font. There are, however, some unique elements that set it apart. Bou is ideal for use in a multitude of situations and sizes.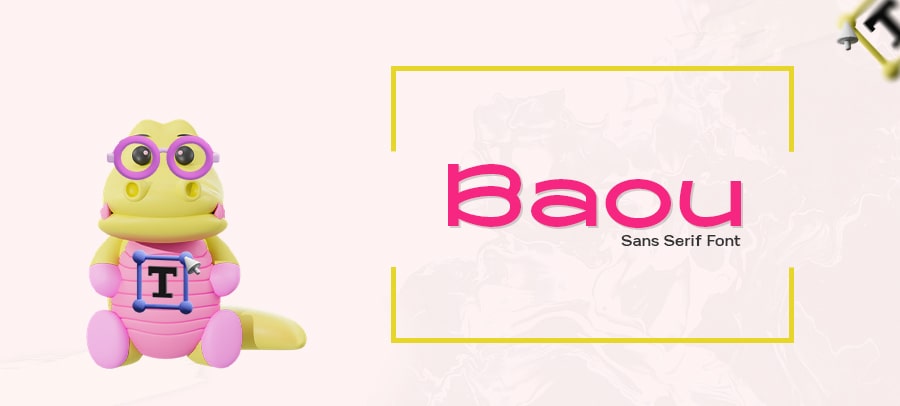 49. Gumzilla
Gumzilla comes with three kinds of rounded fonts and graphics that can be used for your retro designs. It comes in three different styles, regular, shiny, and slimy (with drips), so you can choose the look that best suits your needs. Package design inspired the design of Gumzilla, however, the program can be used for a multitude of purposes.

50.  Nevermine 90s Typeface
The waving and distorted appearance of Nevermine will give your designs a unique look. Designers can use this font to create album covers, event posters, and merchandise.

51. Childish Reverie
The Childish Reverie will bring back a lot of nostalgia for people who grew up in the 90s. In addition to perfectly reproducing the typography style of children's media in that era, it contains the regular font as well as a colored font in both SVG and PNG and various doodles you can use to customize your text.

52. The Ultimate 90s Font Pack
Even though it's not just one font, The Ultimate 90s Font Pack includes one font on this list, Childish Reverie. To sweeten the deal, it also includes a bubble font. With this pack, you'll get all the 90s typography that was quirky, vibrant, and high-energy.

53. Comba
Comba is a whimsical all-caps font that embodies the fun, stylish appeal of the 90s typography era. This font will stand out if you want something different from the norm.

54. SkateParx
Skatepark is an outstanding choice for a grunge design if you are looking for one of the best 90s fonts. It is of course ideal for posters, flyers, t-shirts, merchandise, album covers, and more that create awesome 90s typography.

Final Takeaway
Perhaps you are feeling overwhelmed by the number of font choices available. It would be best if we narrowed our options a little.
The easiest thing to do is to pick a decade or two to emulate. Though there are some similarities between eras, the 90s' unabashedly unique fonts are a far cry from the more elegant signage and branding of the 50s.
The retro fonts you choose can give your project either an old-timey vibe, elegant feel, or a cozy, nostalgic feel, depending on the target audience and the era you choose.
Retro fonts tend to be very stylistic and so unsuited to small text sizes, but there are some here that will work.
If you're on the hunt for the ultimate typeface for your next retro of mid-mod-inspired project, this roundup of the most stylish retro fonts is really going to razz your berries!