6 Dominant Graphic Design Trends to Watch in 2021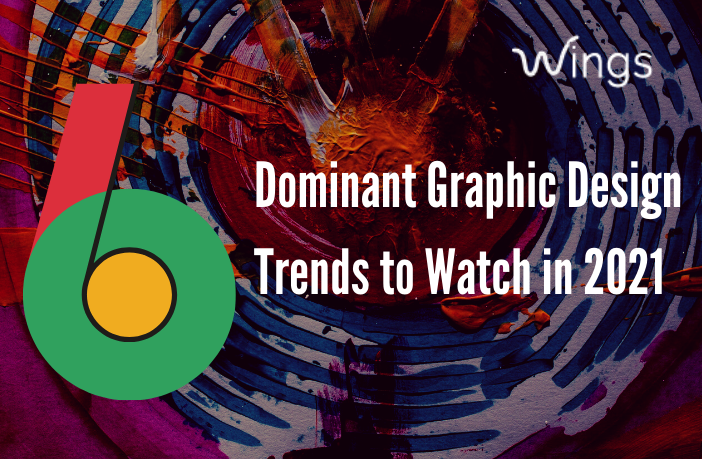 Design is not just what it looks like and feels like. Design is how it works. Similar graphic design gives the first aura when a user embarks on the web exploring journey. The prosaic evolution of users' tastes and emerging technologies keep on changing rapidly. The graphic designers' trends not only satisfy users' aesthetic requirements but also provide them with a high level of usability. A wise combination of these trends will lead to happier users, and ergo your product's success.
Some trends delight and inspire, some make your eye ache. New grows old and sometimes old is new again. It is an important tool to enhance the way of communication between the designer and the target audience. It is said truly that "beauty gets the attention," and the designers leverage this platform to convey their ideas effectively and attractively. 
Let's now explore the leading graphic design trends of 2021 in detail and see how popular brands implement them successfully. Every designer must follow them.
Let's spill the bean of 2021!
3D Illustrations 
One of the most sizzling design trends of 2021 is going to be 3D design. Digital or hand-drawn, 2D or 3D, custom illustrations are the free unaligned elements, components, and vast asymmetry. I am sure everyone is aware that VR and AR technologies gain momentum in 2020. In that sense, it's a perfect idea to combine these techniques to create hyper-realistic 3D visuals taking up the whole users' screen. Such visuals attract users as they transcend the boundaries between the virtual space and real life. From using shadows below texts to give them a 3D appearance to using AR/VR technology to add 3D motion graphics in your UI design, the options are plenty. One impressive example of such an experience is the 360-degree view.
Glassmorphism
Glassmorphism is undoubtedly one of the most amazing and trending UI graphic design tools user interfaces. It is based on the background blur effect and creates special effects to give the user the "through the glass" look and feel on elements, as the name suggests. These glass looking translucent elements provide a well-defined hierarchy on an interface. They do it by mimicking depth that helps users differentiate what is in the front and what is further back on the screen. Did you remember seeing this style on the good old Windows Vista or ios 7? Check it out at Glassmorphism Generator. 
Comics and Pop-art
Born of an era of primitive printing technology, comics often used halftones, or simplified dot shading, to represent color. Nowadays, this approach can breathe new life into modern minimalist trends such as flat design through grainy texture and depth. The goal here is to be playful and create escapist landscapes where people can find a few moments of solace away from our challenging reality.
Optical Illusion Designs
Optical Illusion design is quintessential in 2021 and designers are all-set to experiment to get truly funky with this fashion. It is a unique way where the eye focuses on the illusionary design for a longer duration.  It's addictive -it's a magical way of dragging viewers in. Hence, the users automatically tend to spend more time on the website, which meets the designer's essential purpose. Suppose if your brand has something related to the idea of movement and strangeness or spirituality all the better, but even if you just want the design to stand apart, fix in the memory, have that wow factor, then illusion design is worth considering.
Using Cartoon Illustrations
Cartoon illustrations are multi-functional and best to make your website, logo, posters, etc., playful while adding a brand image to your product. Designers can use their creativity and imagination to add playful characters to smile on the audience. Automatically it becomes perfect for memorable branding, excellent for creating the atmosphere for product or site, and incredibly multifunctional. You can use your character on the website, business cards, posters, presentation materials, really there are no limits. 
3D Typography Design
Typography design got it in 2020, with designers using allsorts of playful ideas and concepts and viewers talking to them in a big way. Ultra-realistic lettering that feels like you can reach in and touch it. Alongside this 3D are elements of animation, texture, and pattern. Typography design is rapidly becoming a great symbol of innovation in graphic design, utilizing all the most fashionable, go-to techniques and using them in stunning and imaginative ways. There was a much more artistic flow to typography and we can't see that going away anytime soon.
Final words
Predictions are always in the laps of the gods, and never more so than in the present times. But the world doesn't stop and neither does the need for the next new exciting innovation, the next big thing. With the onset of 2021, it brings along new opportunities and platforms to bring out your creative juices. I am sure the above mentioned Top 6 Graphic Design Trends Ideas will help you retain a wider audience and achieve higher business growth through innovative, unique, and appealing graphic designs. Which of the trends we've mentioned has excited you the most? Is there any other trend that should have been included in the list and would you like us to design your next project with the trending design then just drop a line and we will be back to you within 24hrs.