Wings Tech Solutions listed as one of the Top App Development companies of 2020 by TopDevelopers.co!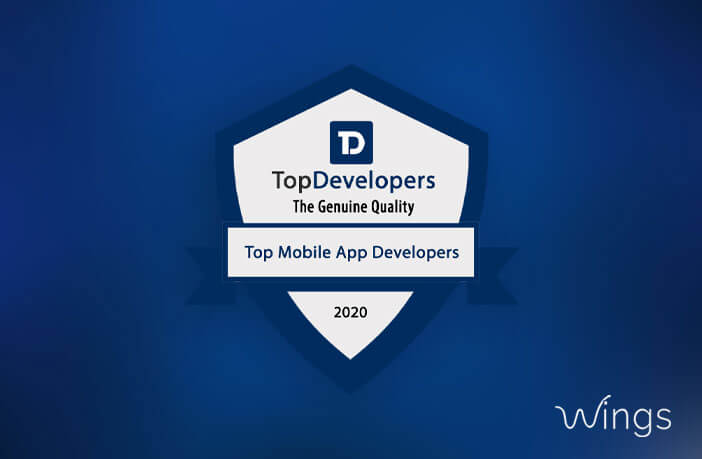 "Focus on the process and the results will follow". We at Wings Tech Solution believe in this quote and keep our work ethics focused on the process. This is the reason why TopDevelopers.co has declared us as one of the efficient app developers to rely on for the year 2020. This is indeed good news for Wings Tech! In a press release on leading B2B Mobile App Developers published by TopDevelopers.co, we are listed among the prominent companies.
Through our consistent efforts and hard work, we have always aimed to become one of the leading mobile app development companies in the world. And, we did it with flying colors through our dedication towards what we are committed to, from day one we have started offering technical services that enhance the businesses. We are happy that our strategy of providing high-quality mobile apps to our clients is bearing fruit.
What started as a small dream in 2009 has grown into a substantial IT services company that provides a wide array of services to clients spread worldwide.
We have worked with some of the biggest names hailing from different business sectors such as healthcare, advertising, media, social networking, technology, education, etc. The hallmark of Wings Tech Solutions Pvt Ltd can be understood from the fact that we have covered a variety of industries in the past decade and have a competent customer retention ratio.
We can also add marquee names in our list like Choicelet, Mzone, Haute Living, Total Eyewear, iFixerr, Uflow, and Mojo Bodyfuel. Working with such innovative companies has allowed our developers to gain in-depth knowledge about how various businesses work. This helps us in understanding the business of a new customer much faster.
When Flamingo Transworld, a premier tourist agency came to us to develop their mobile app we were thrilled to take up the project. We devised a unique app that represented all the travel-related information in a user-friendly way and allowed the user to manage all inquiries/bookings in a hassle-free manner.
Visit our portfolio and you will find more interesting projects completed by us.
Our Founder – Mr. Ravi Mehta in an interview with TopDevelopers.co has shared his valuable thoughts about technology and how to maintain a fine balance between customer satisfaction and project development.
Wings Tech's profile on TopDevelopers.co is where anyone can have a better understanding of our overall processes, the industry and client focus areas, cost details, service specializations, etc. We chose TopDevelopers.co for their indisputable processes and the genuine recognition they provide for the companies listed
Who is TopDevelopers.co?
TopDevelopers.co is a respected B2B listing service provider which categorizes IT, service providers, from all over the globe according to their specialties. The analysts working at TopDevelopers.co have ensured that they maintain the credibility of the platform by providing an unbiased analysis of the companies on their platform. The aim of the portal is to identify and classify the best companies in the IT services domain.